On a beautiful, sunny day biking through London is a treat, and HumanForest is committed to making biking more accessible to everyone by building the first, free shared electric bike system. HumanForest offers high quality, e-bikes that are electric, dockless, and powered by renewable energy. When hopping on a HumanForest bike, the first twenty minutes of thee ride is free and beyond that, bikers are charged £0.12 per minute.  The first free twenty minutes are supported by the rider viewing ads on the HumanForest app.
London TechWatch caught up with Head of Growth and Cofounder Caroline Seton to learn more about how shared mobility is improving life in London, the company's plan to deploy 2K e-bikes this year, and recent funding round.
Who were your investors and how much did you raise?
This was our first fundraising. We raised £1.8 M from leading mobility investors including Juan de Antonio and Vicente Pascual (cofounders of Cabify) and Stefan Tilks (former Volvo President and CEO of NEVS AB, the Swedish electric car manufacturer).
Tell us about the product or service HumanForest offers.
HumanForest is London's first free, shared electric bike scheme. It offers a fun, healthy, and sustainable alternative way to move around the city. It provides twenty free minutes daily (approximately the time it takes to cycle 5 kilometres across London), and then costs just £0.12p per minute. There is no unlocking fee and users can pause their ride, parking the e-bike for up to 23 hours.
Our e-bikes are high quality; electric, dockless, zero-emission, and powered by renewable energy. They can reach up to 15mph, are GPS-tracked and are locked and unlocked exclusively via the HumanForest App.
What inspired the start of HumanForest?
Agustín Guilisasti, formerly of Cabify, one of the biggest ridesharing networks in the Spanish- and Portuguese-speaking world and the first mobility company to offset its carbon footprint, moved to London to complete his Master of Data Science, He wanted to explore London and was frustrated by the limited and expensive last-mile solutions available to him. This inspired him to create HumanForest, a free sustainable transport movement that everyone can access and enjoy.
How is HumanForest different?
HumanForest is free for 20 minutes daily and then charges at a low rate of 12p a minute. We deliver this through a unique partnership model. HumanForest partner companies gain access to a digital marketing platform via the HumanForest app. In exchange for free minutes, riders receive advertisements from partner companies.
What market you are targeting and how big is it?
This is mainly targeted at Millennials and Generation Z who are particularly conscious of the impact on the climate and their health: 26 – 30-year-old's make up almost 30% of riders. It really is for everyone, and people of all ages are looking for alternatives to public transport at this time and keep healthy.
The market has enormous potential. A recent Deloitte report said that, in 2023, electric bike sales are expected to top 40 million units worldwide, generating about £16B in revenue. We, however, let users enjoy all the fun of an e-bike without the hassle of owning your own.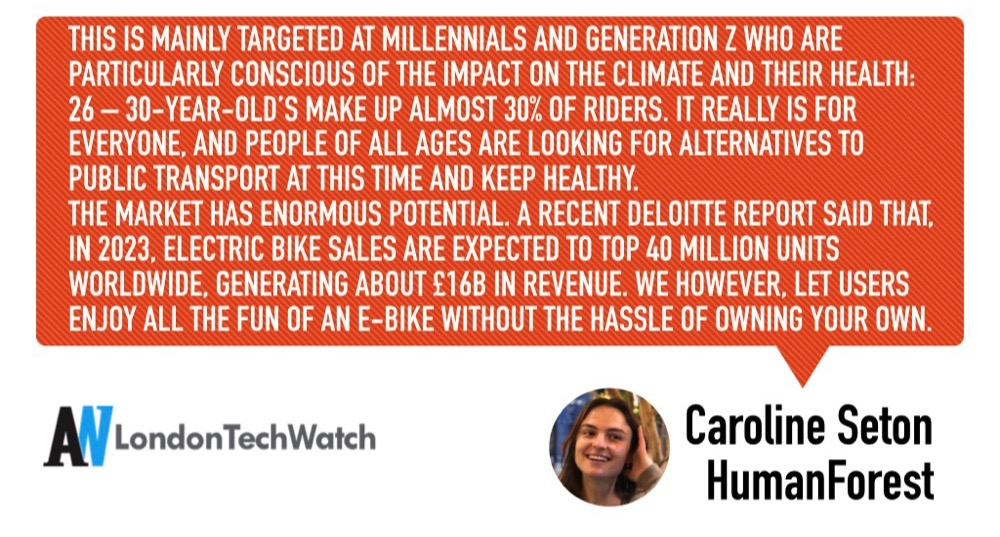 What's your business model?
HumanForest offers users free mobility in return for receiving digital advertising via the HumanForest App. This model provides a consistent source of revenue, while competitors use a traditional consumer pay model which has proved unsustainable so far.
How has COVID-19 impacted your business?
We have seen a surge in demand. It has accelerated the shift towards climate-friendly e-mobility solutions and away from traditional transport options. People are looking for ways to move around the city, safely. HumanForest e-bikes are proving a popular solution, offering a safe, affordable, and socially distant commuting option.
What was the funding process like?
We are fortunate to have contacts through Augustin's previous role at Cabify with some of the leading mobility investors in the world. It is never easy, but we were lucky to meet people who understood what we were trying to do and saw the potential that we saw in our business model.
What are the biggest challenges that you faced while raising capital?
Our fundraising started the week we went into lockdown. We paused for a couple of weeks while we recalibrated and worked out how best to move forward. We were nervous about the prospect of an entirely virtual fundraise and after the first couple of calls we really couldn't get a gauge on how they had gone but very quickly it became the norm and we hit our stride.
What factors about your business led your investors to write the check?
I think there is strong recognition of the potential in the e-bike market and investors saw that our innovative business model is an excellent way to capitalise on this. Investors have just to read the news and consider their personal transport choices to realise that this is a powerful proposition.
What are the milestones you plan to achieve in the next six months?
We will be rolling out into a number of new boroughs in London and announcing a number of new exciting partnerships in the coming months. Ultimately, we plan to grow the fleet to 2,000 e-bikes in the capital within a year.
Ultimately, we plan to grow the fleet to 2,000 e-bikes in the capital within a year.
What advice can you offer companies in London that do not have a fresh injection of capital in the bank?
I think it is all about meeting investors who really understand the sector. It is difficult right now but there are people out there who will invest if they know the industry and can be convinced that the product is well placed to grow in a COVID environment.
Where do you see the company going now over the near term?
We are very confident about the future. As outlined, we are really well placed in the COVID-19 environment and expect to see even better demand in the next few weeks with return to work and education. Next steps for us is to launch across London and then to other major global cities. The e-bikes market is set to boom over the next few years.
What is your favorite restaurant in London?
Farmacy on Westbourne Grove for simple, delicious, veggie food in a garden-like setting.
---
You are seconds away from signing up for the hottest list in London Tech! Join the millions and keep up with the stories shaping entrepreneurship. Sign up today
---