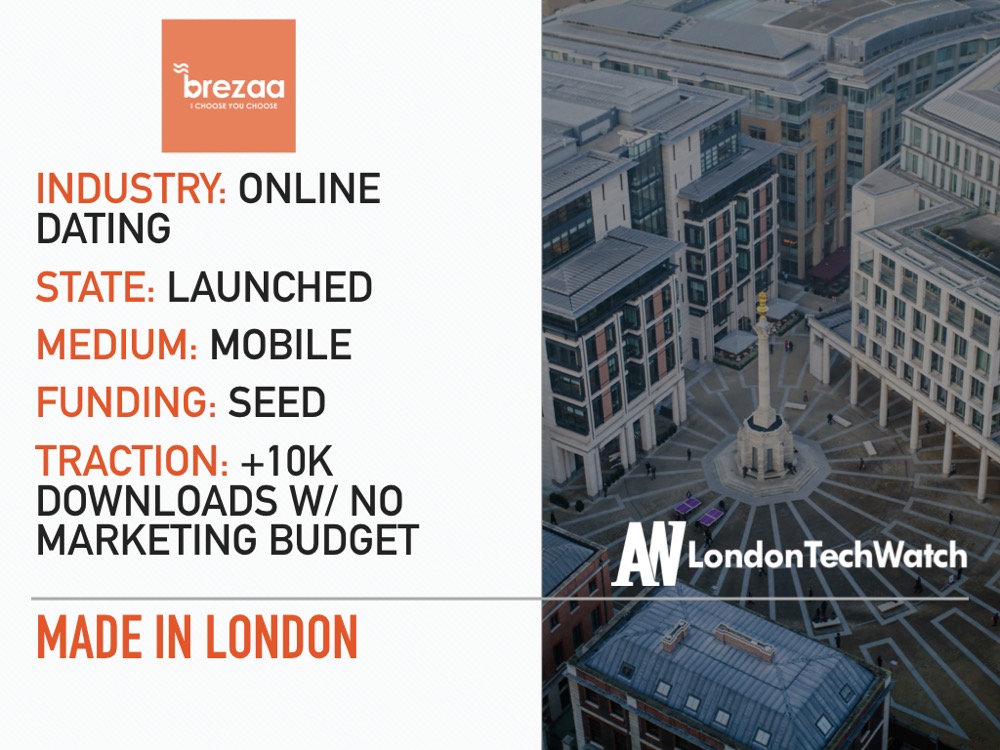 Online dating can be awkward, and it can be a struggle to keep the conversation naturally flowing. Brezaa is the dating app focused on keeping the conversation going through its fun icebreakers designed to spark engagement. Brezaa's matching algorithm shows you people who share common interests, making it even easier to start a conversation.
LondonTechWatch spoke with Crissy Nuttall to learn more about the experience of building Brezaa, how the company was able to leverage furloughed workers during the pandemic to build the team, and the company's future plans.
Tell us about the product or service Brezaa offers.
Brezaa makes finding your perfect match easier and more fun with two main features. Our smart interest matching, which helps show you people who share common interests, and our icebreakers that help get conversations started and makes it less awkward.
Tell us a little about your background and what inspired the business?
Initially, the idea came from a game I played with a group of friends, that we called "I choose, you choose", inspiring our icebreakers. I realised that there was a gap in the market for a dating app which makes meeting the right person easier by helping facilitate conversations in a fun way.
What market are you attacking and how big is it?
Online dating – £12B
What is the business model?
We have 4 revenue strategies: In-app purchases (Brezaa coins), subscriptions (via our premium model) and advertisements (through hospitality and social media.
How has COVID-19 impacted your business?
We embraced the situation, by bringing a team of furloughed industry experts on-board to work on the app. Seven marketers, bringing their experience across digital marketing, content creation, social media, and PR. Due to COVID-19, all of them were put on furlough by their day jobs, so took the opportunity to keep contributing creatively by supporting a UK startup.
Moving forward, we now have a full in-house iOS development, marketing, and design teams working remote (UK) to elevate our business in all key areas.
Tell us what building your company in London has been like?
London is one of the best cities in the world to start a new business. With the huge amount of talent on offer for building a team and the large market of potential users, being in London has helped Brezaa thrive.
What are the milestones that you plan to achieve within six months?
Seed investment
250K downloads/users
If you could be put in touch with one person in the London Tech community who would it be and why?
Arlan Hamilton. As a gay black woman, Hamilton started Backstage Capital, a venture-capital firm, in 2015 from scratch to invest in companies led by underrepresented founders — women, people of color, and LGBTQ people. The impact she has made on these communities within tech is incredible and I would love to find out more about how she thinks.
What does being "Made in London" mean to you and your company?
London is a city of diversity and inclusion, which is exactly what Brezaa looks to represent. Diversity and inclusion with people from all backgrounds and talents.
What else can be done to promote early-stage entrepreneurship in London?
I believe mentoring is vital to help early-stage entrepreneurs succeed in London. I currently mentor a number of entrepreneurs myself, sharing all of my professional experience. As an early-stage entrepreneur, there's a lot to learn, but there's a lot to learn from other people who have gone through the same process.
As an early-stage entrepreneur, there's a lot to learn, but there's a lot to learn from other people who have gone through the same process.
What is your favourite restaurant in London?
Trattoria Gloria in Shoreditch, their lemon meringue pie is amazing.
---
You are seconds away from signing up for the hottest list in London Tech! Join the millions and keep up with the stories shaping entrepreneurship. Sign up today
---