The average employee uses eight SaaS applications; companies with 50 or fewer employees have a total of 40 applications while larger companies with 1000+ employees have over 200 different subscriptions on average.  That's a lot of software spend to manage and many of these subscriptions are orphaned, where the employee that subscribed has left but the company is still paying for the software.  Cledara is the SaaS purchasing and management platform that centralizes a company's cloud software subscriptions, providing transparency into spend and usage.  The company's plans begin at £10M/month for up to 30 users and 30 subscriptions. The pandemic has created a frenzied acceleration for digital transformation and the associated software needed to support this shift and this trend has fueled massive growth for Cledara; the company has grown 20x in 2020 alone.
London TechWatch caught up with Cofounder and CEO Cristina Vila to learn more about the company's platform, expansion plans, and latest round of funding, which brings the total funding raised to $4.3M since the company's founding in 2018.
Who were your investors and how much did you raise?
We raised a Seed Round of $3.4 million, led by Nauta Capital and with participation from existing investor Anthemis.
Tell us about your product or service.
Cledara is an all-in-one SaaS purchasing management platform that helps companies manage, control, and automate their SaaS so that they can scale their operational processes, comply with regulations, and save money.
Our customers also earn cashback on all the SaaS they buy through Cledara, with the Cledara Rewards program. Many customers earn between £500 and £1,000 per month in cash rewards using Cledara.
What inspired the start of Cledara?
Personal experience. Both my cofounder Brad and I have been early employees of startups before that had scaled quickly. We were both early employees at dopay, a company that grew to 140 people in 2 years that counts Uber and McDonalds as customers. Brad was also an early employee at Railsbank that grew similarly quickly.
At both companies, SaaS caused challenges – how to make it easy to know what SaaS people used in the business, who is using it and why, how to onboard/offboard employees quickly and efficiently, how to manage budgeting and bookkeeping and how to know where customer data was going.
We spoke to other founders to see how they were managing it and most recognized the problem but hadn't found a good way to manage it. Cledara is the system we wished we had when we were scaling these businesses.
How is it different?
Cledara is the only All-in-One SaaS management platform in the world that manages the whole end-to-end journey for software in a company. With Cledara, companies can discover, buy, manage, and cancel SaaS all in one place.
What market you are targeting and how big is it?
Businesses of all types and sizes are adopting SaaS as they go through digital transformation. From large banks using SaaS in their engineering and marketing teams, to small corner stores using cloud-based POS systems.
Having said that, Cledara is most popular among tech companies across the UK and Europe.
What's your business model?
We have plans starting at just £10 per month for small companies.
How has COVID-19 impacted the business?
COVID has accelerated digital transformation and the adoption of SaaS, but also made it much harder to manage as teams shifted to remote at the same time. This has had a massive positive impact on Cledara – we have grown by more than 20x in 2020.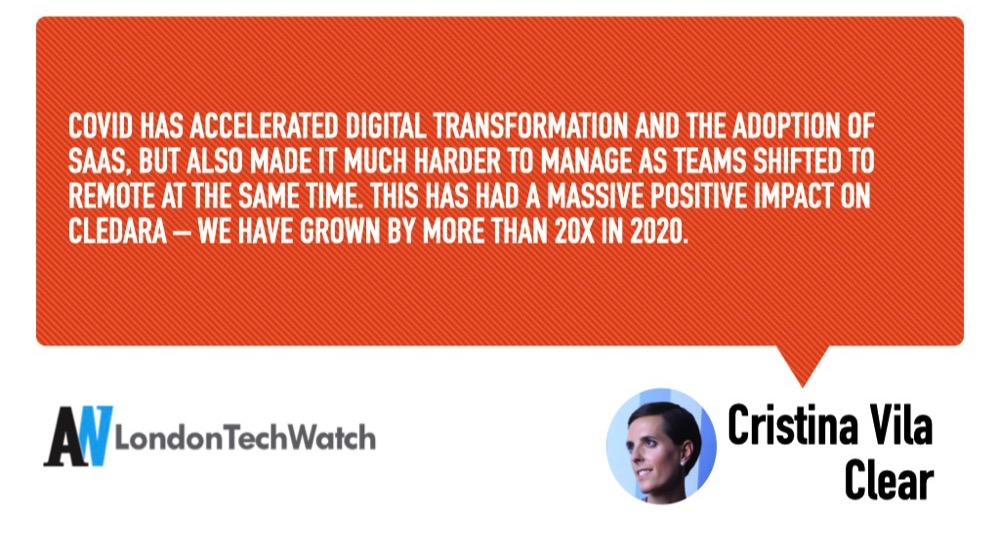 What was the funding process like?
There were two competing forces at play. On one hand, investors realized the size of the opportunity and the importance of the solution, especially given the impact of COVID. On the other, many funds were trying to figure out how to invest remotely for the first time. We were fortunate that we had a strong network of personal relationships with VCs before the round from both Techstars and previous companies that helped overcome that.
We were particularly excited by the opportunity to work with Nauta. We had met several of their team at SaaStock in 2019 and had the opportunity to get to know them well over the course of the year. As one of the largest B2B SaaS investors in Europe, we're certain they're super well placed to support the next chapter of our growth.
What are the biggest challenges that you faced while raising capital?
We have raised significant capital before, both at Cledara and at dopay and Railsbank and so we were familiar with the process. Having said that, the biggest challenge was that the usual approach just wasn't going to work. Usually at the Seed Stage, it's key for VCs to get to know the team and build a relationship. With everything on Zoom, it was much tougher to build those personal relationships and so we changed our approach to one that was quite data-centric. Fortunately, we are growing fast, so had lots of good data to show!
What factors about your business led your investors to write the check?
As investors in B2B SaaS startups, Nauta understand the problem from both sides – the buyers of software and those that sell it. They believe that empowering people to choose their own SaaS stack is key to productivity and employee happiness. This trend of 'Bring Your Own Software' is the logical evolution of the 'Bring Your Own Device' trend that began 10 years ago.
What are the milestones you plan to achieve in the next six months?
Our primary focus for the next year will be to grow the team, from the current 4 to at least 25. This is across all areas of the business. We're also working on launching in the US. More on this soon!
What advice can you offer companies in London that do not have a fresh injection of capital in the bank?
I believe the solution to almost every problem faced by startups can be solved by talking to customers and prospective customers. It will help you better understand the problem you're solving, you'll recruit more customers, and maybe even get new revenue.
I believe the solution to almost every problem faced by startups can be solved by talking to customers and prospective customers. It will help you better understand the problem you're solving, you'll recruit more customers, and maybe even get new revenue.
Where do you see the company going now over the near term?
SaaS is a growing challenge for companies of all types. We're going to focus on doing our part to make it as easy as possible for companies to bring visibility and control to their SaaS.
---
You are seconds away from signing up for the hottest list in London Tech!
Join the millions and keep up with the stories shaping entrepreneurship. Sign up today
---